Shape Modes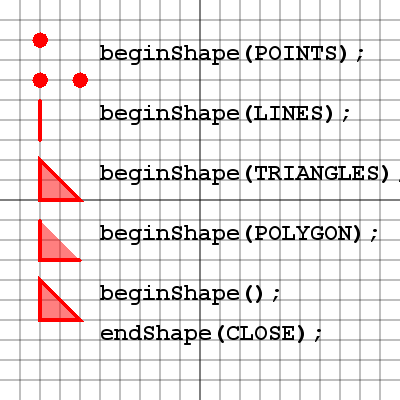 Processing has the ability to define custom shapes. Some of the shape types are shown here. The command to draw a particular shape type is:
beginShape( mode );
For each shape example the following 3 vertices were used:
vertex( 40, 40 );
vertex( 40, 80 );
vertex( 80, 80 );
Of course their y-values have changed for each example but the plotting remains the same.
The command to end a shape is:
endShape( CLOSE );
The use of CLOSE is optional but generally a good idea.
Take a look at how some shapes appear incomplete. For example the LINES shape only draws one line. That is because it expects a pair of points for each line to be drawn. Since there are only 3 points, there is only 1 line. Also note the difference between using POLYGON with CLOSE and without.
There are more shape types available in processing such as:
beginShape(TRIANGLE_STRIP);
beginShape(TRIANGLE_FAN);
beginShape(QUADS);
beginShape(QUAD_STRIP);
Every custom shape must call beginShape() and endShape()
Shapes are created by plotting vertices. Different shape types will represent vertices in different ways.
endShape(CLOSE) is optional, but normally recommended.